SBFOL Annual Meeting More information here.
---
Attention local writers: there's still time to enter the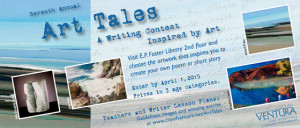 Up until April 1, 2015, you can submit your writing for this year's competition. E.P. Foster Library is hosting inspirational artwork that you can view on the first and second floor in order to get your creative gears turning.
Contest rules, past winners, and digital representations of this year's art can be viewed on the city's website, and library staff can direct you to the display areas at Foster. Stop by the library and see if these pieces move you!
---
If you've been curious about the Library LAB's  3D printer and laser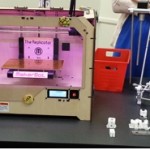 engraver, you're in luck!
The Library LAB will be open for walk-ins on Wednesday evenings from 5:30 to 7:30 pm starting on January 7.
Whether you want to find out more about the software and hardware involved or use the printer or engraver for a project of your own, staff can walk you through the process and get you ready to start making!
---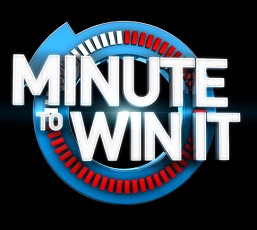 The Teen Advisory Group at E.P. Foster  hosts this special event on the second floor of the library.
Friday, March 27
 5-8 p.m.
Get ready for minutes of fun! Join the E.P. Foster TAG group and experience "Minute to Win It" like never before.  The series of minute-long games is sure to include something for everyone. There will be prizes for the winners in addition to the thrill of participation!
---
E.P. Foster Library is excited to present a 3 part series focused on  STEM topics supported by a grant from the Institute of Museum and Library Services, under the provisions of the Library Services and Technology Act, administered in California by the State Librarian.
 Origami Math Genius (OMG)
  Saturday,  March 28,  11 a.m. – Noon.
OMG is a curriculum built around origami math developed by BiJian Fan to integrate art and science
into K-12 education. This program integrates fun, hands-on activities into learning. Students can learn mathematical concepts and logic by creating origami artworks, cultivate imagination and creativity, and
develop problem-solving skills.
The Amgen Biotech Experience
Sunday,  March 29, 1:30-2:30 p.m.
Learn about genetic engineering techniques, tools, and products as a component of STEM education.  Teachers talk about this innovative science education program, which allows students to engage in learning molecular biology using a hands-on curriculum and research-grade tools, techniques, and supplies.
The third program will be NOAA and the National Weather Service, Wednesday, April 29, 5-6 p.m.
---
Phil Taggart hosts an open mic night for poets, authors and everything in between!
Starts at 7:30 every Thursday
3/5, 3/12, 3/19, 3/26

 Event is free and open to the public, call (805) 648-2716 for more information.
---
Ukuleles!
Jam Sessions

Mondays, March 9 and 23
   7:00 to 10:00 p.m.
Join local ukulele lovers as they strum together in the Topping Room.
---

Teens Do Tech!
The Teen Advisory Group at E.P. Foster Library have launched their own website.  They plan to  create 2 more websites for the Avenue and Saticoy TAG groups and teach one of their members how to keep it updated.
Check it out:  http://tagepfoster.wix.com/tagepfoster___________________________________________________

TAG, the Teen Activity Group, now has groups st both E.P. Foster and Saticoy libraries.
The E.P. Foster group meets every month on the 1st and 3rd Wednesdays.
The Saticoy group meets every month on the 1st and 3rd Thursdays.
Now is the time to join TAG, if you want to share ideas, meet new people and have a great time shaping the library teen program. Members'  duties include promoting / co-hosting teen events & participating in library activities. Members also provide general feedback on various aspects of the teen programs: reviewing books, movies, music and other media plus suggestions for the Teen Collection.
Active members will get credit towards School Community Services Hours
For more info contact:
Jane at (805) 647-5736    jane.middleton@ventura.org
____________________________________________________________
Friends of the Library book discussion
meets in the Topping Room on the first Saturday of the month from 10 am to noon.  This group reads a variety of fiction and non-fiction and is always open to new members.
Saturday, April 4:  Poetry Discussion
Saturday, May 2:  The Judges of the Secret Court                                                    by David Stacton
Please feel free to call Marcia at 407-3510 or e-mail  mrortiz@earthlink.net, if you have any questions.
____________________________________________________________
Happenings at Avenue Library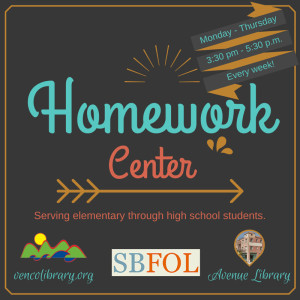 Homework help for students from elementary to high school provided by library staff.  Computers, printers, and wireless internet is also available through the homework center.
      Monday @ 3:30 p.m. – 5:30 p.m.
      Tuesday @ 3:30 p.m. – 5:30 p.m.
Wednesday @ 3:30 p.m. – 5:30 p.m.
Thursday @ 3:30 p.m. – 5:30 p.m.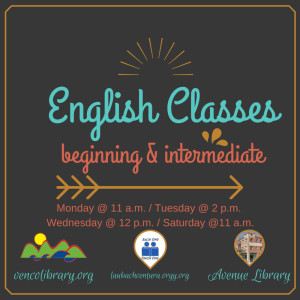 ESL Classes – Beginning and Intermediate English Classes taught by tutors from Laubach Literacy of Ventura County every week.
More info,  call 805-643.7064.
Monday @ 11:00 a.m. – 1:00 p.m.
Tuesday @ 2:00 p.m. – 4:00 p.m.
Wednesday @ 12:00 p.m. – 3:00 p.m.
Saturday @11:00 a.m. – 1:00 p.m.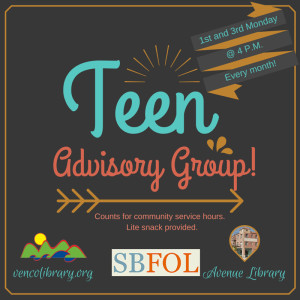 Meets on the 1st and 3rd  Monday of the month for various fun and enriching events.
Counts for community service hours.
Light snack is provided.
---
Happenings at Saticoy Library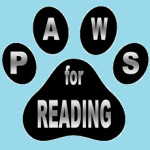 Saticoy Library will be hosting two new programs starting in November.
First, PAWS for Reading comes to Saticoy.  For information on how to sign up, contact:   Jane.middleton@ventura.org  or call (805) 647-5736.
Also, Laubach Literacy of Ventura County will be cosponsoring an English language class for adults on Mondays at 11 a.m., starting on November 17. This series is presented by Marilyn May; for more information, call (805) 647-5736 or (805) 506-0110.
_________________________________________________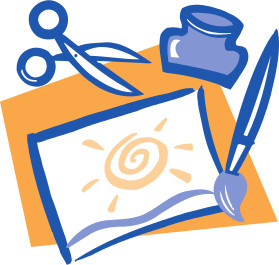 Crafts for Kids
Tuesdays, 2:30 p.m.
Crafts for school age children.

Storytime
Thursdays, 11:00 a.m.
Storytime and crafts.
Best for children under age 5
***********************************
   The Teen Activity Group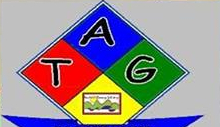 meets every month at Saticoy Library
on the 1st and 3rd Thursdays.
For more info contact:
Jane at (805) 647-5736    jane.middleton@ventura.org
********************************************************************************
NEW!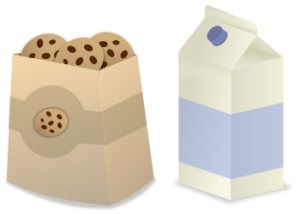 Cookies and Milk Storytime!
at Panera
located 4910 Telephone Road, Ventura
First Monday of each month, 10:00 a.m.
__________________________________________________________________
Story Times at E.P. Foster
Lapsit at 10:30 a.m. on 2nd and 4th Mondays, Story interaction for ages 0 to 18 months.
Preschool Storytime  10:30 a.m. on Tuesdays,  Stories and Crafts for Ages 5 and under.

Wednesday Wonders at 3:30 p.m., a storytime and activity program for children 5 and up.
Paws for Reading Saturdays 12 – 1 Read aloud to registered therapy dogs. (sign-up required, call 648-2716)
______________________________________________________________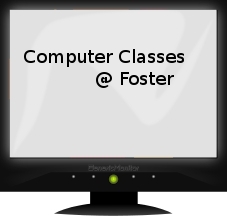 Computer assistance
Computer classes are now one-on-one sessions.
Call the library (805) 648-2716 for more information.
Set up a time for one-on-one help with your favorite library staff! Appointments are free and open to the public, and typically last between 15-30 minutes. Classes are held at E.P. Foster library in downtown Ventura.
Submit request here.
_______________________________________
SBFOL History Project
Yvonne Seabold, Marianne Coffey and Joanne Fields are working on a history of the SBFOL.
We would like to remember all our wonderful Friends throughout the years, record all of our accomplishments in our efforts to keep libraries open and services available, and perhaps inspire future Friends who will follow us.
We are hoping many of you have photos and other memorabilia, stories and suggestions for how our history should be written.  We would appreciate anything you could contribute to this effort.
Our history will be self-published and offered for sale in our bookstore, County Museum and other venues.
Please send anything you may have to SBFOL Attn: History Project, P.O. Box 403, Ventura, CA 93002.  If you have photos through the years to lend us and need them picked up instead, Marianne Coffey can be reached at (805) 558-0756.
_______________________________________________________
New Library Book Drop Box

A new drop box has been installed at Ventura Community Park at 901 S. Kimball Road.
This convenient box drop is now available for returning Ventura County Library books.
_________________________________________________________________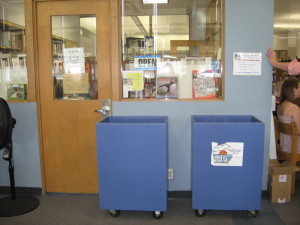 Book Donations
may be left in the blue bins located outside the Friends of the Library Bookstore in the E.P. Foster Library.