CloudLibrary Launch on August 1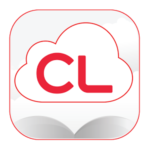 All of the library's digital book and audiobook collections will be consolidated (on 8-1-2017) in one easy to use resource.
CloudLibrary gives Ventura County Library customers access to an even larger collection and shorter wait times.
The app can be downloaded  to your device or computer from The Apple App Store  or GooglePlay.
Library staff will be on hand to help you set up the CloudLibrary on Saturday, August 12th 1-3pm at Ojai Library and Friday, August 18th, 1-3pm at E.P. Foster Library.
---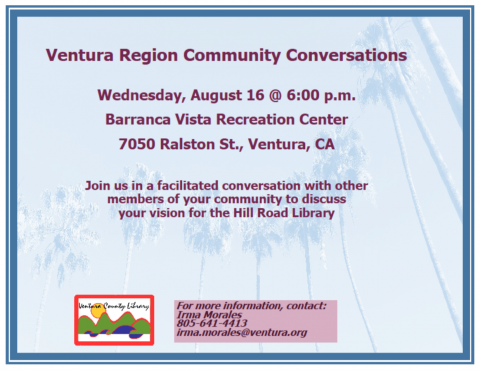 The  Friends of the Library are now raising funds to meet  the  immediate needs for the  opening of the new Hill Road library branch.
Donations can be made at https://squareup.com/store/VenturaFOL
---
---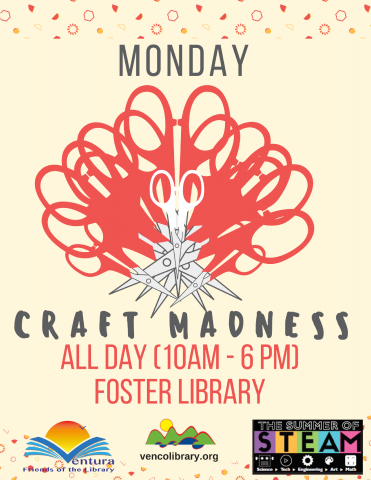 Mondays  

10:00 am

to

6:00 pm
Get your craft on all day at the library! Crafts supplied!
---
Now open Mondays, Tuesdays & Wednesdays @ 4-6 pm
Come by the Makerspace to learn, create, and share STEAM (science, technology, engineering, art, and math). We have 3D printers, computer coding, stop motion animation, a laser cutter/engraver, and so much more! Play hard, have fun, explore, discover, connect.
---
Ukulele
Jam Sessions
Mondays,  August 14 & 28

7:00 to 10:00 p.m.
Join local ukulele lovers as they strum together in the Topping Room on the first and third Monday of the month.
All skill levels are welcome to join in the fun!
---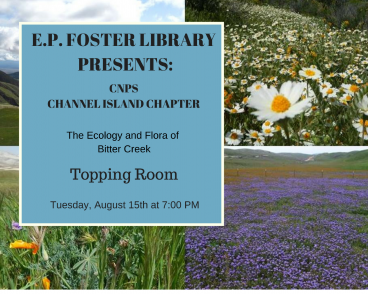 The Ecology and Flora of Bitter Creek
E.P. Foster Library Topping Room
Tuesday, August 15, 7:00 pm to 9:00 pm
Presented by the California Native Plant Society, Channel Islands Chapter.
---
Lego Play:
Build, Learn, and Play! Bring your imagination and experiment with creative designs. Children of all ages welcome!
Saticoy Library
Mondays @ 3:30 pm
Avenue Library:
Thursdays 3:30 pm – 5:30 pm
Saticoy Library:   Gaming @ the Library
Monday, August 7,  3:00 pm – 5:00 pm,
Socialize and strategize with Wii games and board games.
Avenue Library:   Gaming @ the Library
Thursdays 3:30 pm – 5:30 pm,  August 3 & 10
Socialize and strategize with Wii games and board games.
E.P. Foster Gaming Daze Unplugged!
Board not bored games!
Fridays, 2:00 to 4:00 pm

August 4, 11 & 18
---
Avenue – Crafternoon
Tuesdays!
August  1, 8, 15, 22, 29
3:00 pm to 4:00 pm
Get your craft on in the afternoon for this special crafternoon.
Saticoy – Crafternoon
Now on Wednesdays!
August 2, 9, 16, 23, 30
3:00 pm to 4:00 pm
Get your craft on in the afternoon for this special crafternoon.
---
E.P. Foster,  Tuesdays, 3:30 to 5:00 p.m.
August 8: Straw Glider
August 15:  Bubble Prints

August 22:  CD Spinning Top
---

Needlecraft and Fiber Arts Club
Thursdays,  August10 & 24
---
Foster – 3D Printing Club

Thursdays, 

2:00 pm

to

4:00 pm

August 3, 10 & 17

Our 3D Printing Club inspires individuals to explore this emerging technology through hands-on experiences with creative tools, discover new skills through design-based problem solving, and connect with others in a collaborative and positive learning environment
---
New Early Literacy Class at Saticoy Library
Sing, Talk, Read, Play Write
Help get your child ready to read
Thursdays, 9:30 to 10:30 am
Saticoy Library
This is a new class, in addition to the 11:00 am Early Literacy Class.  Sponsored by Housing Authority, City of San Buenaventura.
For more info:  contact Rick Gurrola (805) 673-3610, RGurrola@hacityventura.gov
---
Poetry Open Mic
Phil Taggart hosts an open mic night for poets, authors and everything in between!
Starts at 7:30 every Thursday
August 3, 10, 17, 24 & 31

---

Chess Around the Corner
Saturdays, August 5, 12,  19 & 26
11:00 am to 4:00 pm,  E.P. Foster
Calling all chess players! Keep your skills sharp with this  drop-in session of free play.
Boards will be set up and ready to go. Bring your best moves!
---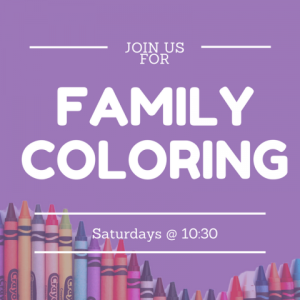 E.P. Foster, Avenue and Saticoy libraries.

---
Saturdays,  10:30 am
August 5, 12, 19 &  26
E.P. Foster – Spanish Conversation Group
Join this informal group to chat and practice your Español!
Bring your own coffee!
Meets in the Rentfrow Room.
---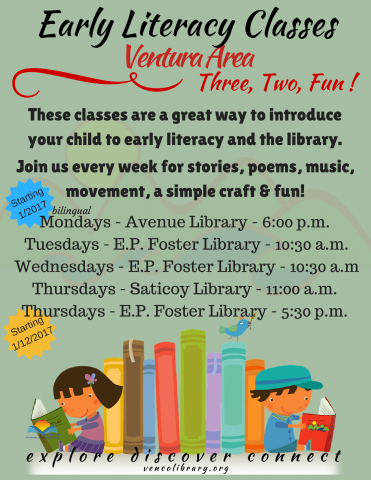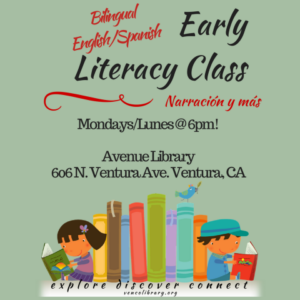 Bilingual Early Literacy Class
Avenue Library
Mondays, 6:00 – 6:45 p.m.
These classes are a great way to introduce your child to bilingual early literacy and the library. Join us every week for stories, poems, music, movement & fun!  Totally free and open to the public.
Estas clases son una excelente manera de presentar a su hijo a la alfabetización temprana bilingüe y la biblioteca. Únete a nosotros cada semana para historias, poemas, música, movimiento y diversión! Totalmente gratuito y abierto al público.
---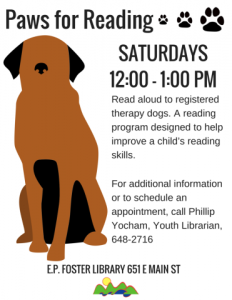 Paws for Reading
Saturdays 12 – 1
E.P. Foster Library
Read aloud to registered therapy dogs.
(sign-up required,
call Phillip Yocham at 805 648-2716)
Saticoy Library
Every OTHER Saturday
June 10 and 24
(sign-up required,
call Jane Middleton at 805 671-5148)
---
English Classes for Adults
Avenue Library
FREE/GRATIS ENGLISH CLASSES
Monday/Lunes at 11AM
Tuesday/Martes 12PM
Thursday/Jueves 1PM
Introductory English classes offered through Laubach Literacy at Avenue Library. Comenzando clases de inglés ofrecidos a través de Laubach Literacy en la biblioteca.
English Class Pumarosa
Tuesdays @ 10-11:30 am
Wednesdays @ 5:30-7 pm
Meeting Room
Saticoy Library
FREE/GRATIS ENGLISH CLASSES – Mondays/Lunes Y Wednesday/Miércoles at 3 PM
Computer assistance
Computer classes are now one-on-one sessions.
Call the library (805) 648-2716 for more information.
Set up a time for one-on-one help with your favorite library staff! Appointments are free and open to the public, and typically last between 15-30 minutes. Classes are held at E.P. Foster library in downtown Ventura.
Submit request here.
---
SBFOL History Project
Yvonne Seabold, Marianne Coffey and Joanne Fields are working on a history of the SBFOL.
We would like to remember all our wonderful Friends throughout the years, record all of our accomplishments in our efforts to keep libraries open and services available, and perhaps inspire future Friends who will follow us.
We are hoping many of you have photos and other memorabilia, stories and suggestions for how our history should be written.  We would appreciate anything you could contribute to this effort.
Our history will be self-published and offered for sale in our bookstore, County Museum and other venues.
Please send anything you may have to SBFOL Attn: History Project, P.O. Box 403, Ventura, CA 93002.  If you have photos through the years to lend us and need them picked up instead, Marianne Coffey can be reached at (805) 558-0756
---
Book Donations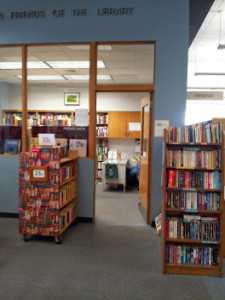 may be left in the blue bins located outside the
Friends of the Library Bookstore in the E.P. Foster Library, during hours when the bookstore is open:
Wednesday – Saturday
11:00 am to 4:00 pm
DONATION GUIDELINES:
We accept HIGH QUALITY donations to generate revenue for library programs through our bookstore.
Please DO NOT DONATE:  damaged, neglected books.  No magazines, encyclopedias, or large  dictionaries.  We have limited volunteer help and cannot sell these items. Please take older collections to an interested thrift store or recycle venue.